The HOT-CHIP Company was founded in the Czech Republic in 2019. We entered the market with the unique HOT-CHIP Challenge product. HOT-CHIP Challenge is a tortilla chips from the hottest peppers in the world. Thanks to this Challenge, the company managed to expand to the market of Slovakia, Germany, Austria, France and Denmark at the end of 2020. However, our focus is not only on this challenge, but we are true lovers and admirers of chilli, which is why we are now focusing on marketing premium chilli products.
Our products include spices, peppers, jams, syrups, sauces, high-protein chips and much more. Our product design follow the basic concept of the HOT-CHIP Challenge and are packed in premium ecological packaging. We carefully monitor the quality of our products. Our goal is not to produce a large number of products, we focus on the production of small series so that we can maintain the best quality ourselves. For this reason, some of our products are only available during the season when their fresh ingredients are available. We believe that the future lies in products produced in small series, locally and ecologically.

Why chilli? Health benefits of chilli.
In addition to the specific hotness of chili peppers, we are also interested in their health benefits. We carefully examine these benefits and offer them to our customers in the form of tasty products for everyday consumption. The main health benefits of chili include, for example:
Regular use of chili promotes blood circulation, increases the rate of metabolism.

It also contributes to weight loss by supporting digestion.

The Indians used to use it for fevers to lower the temperature. It also worked for them to stimulate libido.

Peppers have an anti-pain effect - they actually act as an analgesic. They also help lower blood cholesterol levels.

They improve rheumatic conditions. They detoxify the intestines. Capsaicin also reduces the amount of insulin in the body after a meal, thus benefiting diabetics.

The spicy taste of chili peppers reduces the appetite for sweet and fatty foods.

They improve mood because they increase the production of endorphins and also the level of serotonin, hormones that evoke the feeling of happiness.
Ecology and planting of trees
We use the most ecological approach and packaging for all products. We strive to find new approaches in the solution of ecological packaging and an overall sustainable approach to our business. In addition to using ecological packaging, we help nature directly by planting trees. "Fire that helps" is an initiative of the Hot-Chip team to help the environment at least a little. For each order of 1000 or more crowns per customer, we will automatically ensure the planting of one tree.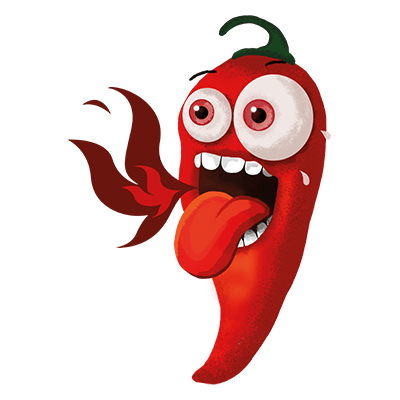 In the spring of 2021, we planted almost 1000 trees.